Now in multiple languages
About Beth
Educator, Instructor, Author of Pilates for Hip and Knee Syndromes and Arthroplasties
"Working with [Beth] has made me feel like a whole person again." — Marie Gibbons
Beth A. Kaplanek, RN, BSN, is a Pilates instructor and Practitioner of Pilates for Rehabilitation. Beth started her career in fitness in 1998, teaching aerobics and personal training.  Previously, Kaplanek served for 20 years as a registered nurse working in various capacities within emergency room care, operating room care, intensive care, drug counseling and rehabilitation, and hospice care.
After undergoing a hip replacement in 2001, Kaplanek began using Pilates as a form of low impact exercise for strength and flexibility training. Encouraged by the positive prognosis of her physician, she began researching how the Pilates Method® could be modified and successfully utilized by individuals with hip or knee conditions and replacements. She has been teaching Pilates since 2003 and has had the opportunity to see and demonstrate the positive impact that the method can have on individuals with knee and hip issues both in pre-habilitation and post-operative rehabilitation. "Pilates for Hip and Knee Syndromes and Arhtroplasties" showcases the Pilates method with modifications. more>>
Latest news

Here are a few alternative ways to add resistance with the exercise Feet in Straps. This is great for clients who have trouble laying on their side.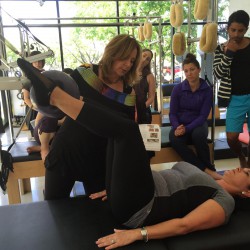 A Practitioner of Pilates may have several clients a week in their schedule with a hip or knee syndrome or replacement. More than 2 million hip and knee replacements are performed worldwide, annually and that number is increasing. [8] 7.5 million Americans are living with hip and knee replacements.[9] So, why is Pilates an ideal Read more about Why Pilates?[…]
Previous
Next