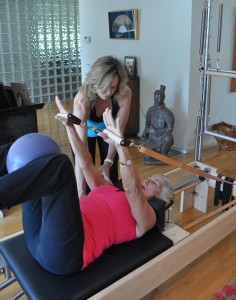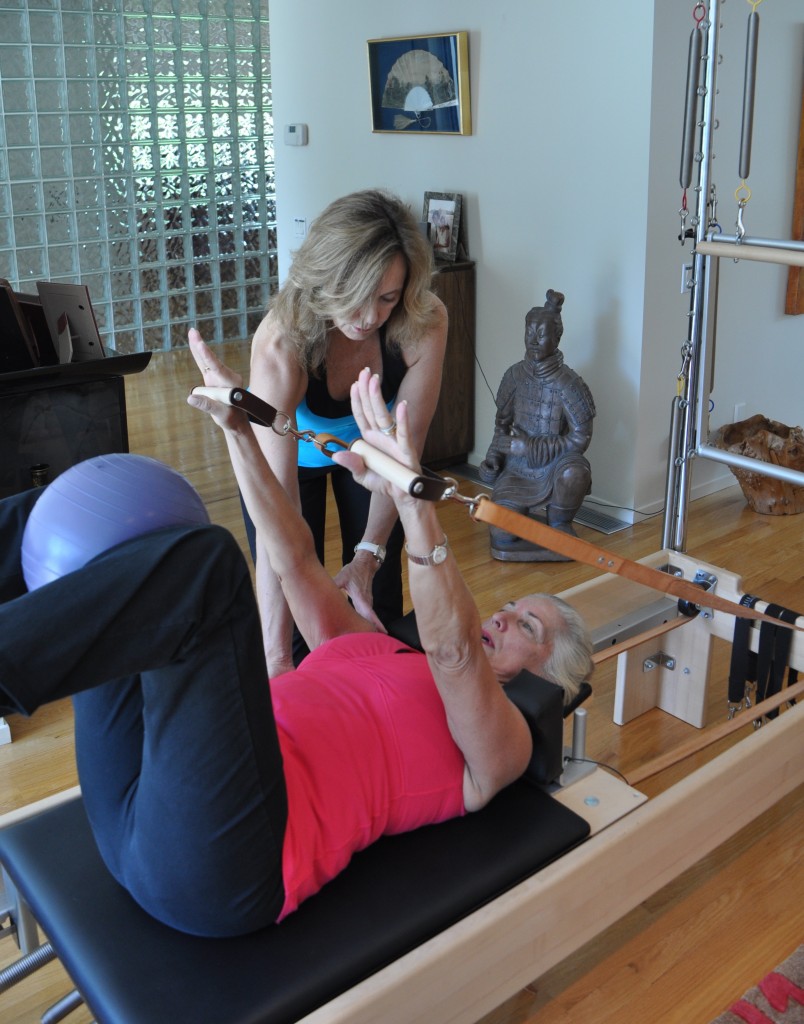 I had undergone arthroscopic labral debridement and femoral arthroscopic impingement surgery, and as a Pilates instructor and practitioner, I was maintaining hip health greatly through the use of the mat class exercises, particularly my side leg kick work both with and without therabands. I was satisfied with the strength and functionality of my operative hip, and my physicians were impressed with the joint space I was able to maintain. After four years, I lapsed in my practice, and literally six months later was devastated to realize that the medial glutes had completely atrophied, the joint space collapsed and I was in a state of constant pain and diminished mobility. My hiatus in my personal practice ultimately resulted in a total hip replacement six months later.
I began using Pilates as my primary rehabilitation at Polestar Pilates for my total hip replacement (anterior approach). I was bridging on the reformer four days after the surgery and during the first month of recovery was in the studio working six days a week on a rotating program incorporating much of the equipment both traditionally and adapted for my rehab. I continued in my second month with a three day per week program, and after five months reduced to two times per week. I am in my seventh month post-surgery and have been able to return almost completely to my professional life as a full time ballet and modern dance instructor and choreographer, working aggressively in the studio five days a week, six hours a day, teaching, demonstrating and dancing with few restrictions, while I continue my rehab both on my own with Pilates mat work and in the studio once a week when possible.
The strategies of Beth Kaplanek were phenomenal in structuring my rehab and produced tremendous results. Her methods of analysis and application first addressed my rehabilitation from the surgical trauma, and collaboratively addressed the well being and maintenance of the new hip joint itself. Soon after my therapy began, she assessed my entire body, which had grown so many imbalances from my compensations during the deterioration of my hip joint and each session produced small but measurable gains in my overall strength. Beth was able to target my specific areas of greatest need, and with her ability to constantly adjust my program, each day I felt more like the person I was years before my surgery. Beth's knowledge of the Pilates equipment is also paramount to her work; she was able to quickly adjust the machines to allow the best results. I am truly indebted to her expertise, her methods and her talent and I recommend her in the highest regard.
~Hannah Baumgarten, Artistic Director, Dance NOW! Miami
---
Several years ago, I had 3 operations in 3 years; one each year. These operations, and the lengthy recoveries and physical therapy sessions
that followed them,
left me feeling weak, old, and impaired. I found this depressing and debilitating.
Previously, I had been an avid fan of Pilates. However, I was convinced that I would never be able to return to my previous activity level or feel really well again.
Beth entered my life and brought with her a renewed sense of health and well being for me. With her guidance, I returned to Pilates in Miami, at Polestar Pilates, where I have achieved and continue to achieve new levels of strength and flexibility. Through the Pilates movements and modalities, I have had greater recovery than through all my other rehabilitations combined.
Pilates and Beth are a winning team!! Both are good for the body and the soul.
~ Marilyn A. Sopka
---
I live a very active life with ballet and horseback riding as my main interests. I was devastated to learn that the injury I obtained in ballet class 10 years ago that was a labral tear of the right hip had progressed to osteoarthritis and I had hip dysplasia of the left hip. After years of increasing pain I finally decided that hip replacement might be my option.
My left hip was replaced in November 2008 and the right in April of 2010. I did a lot of research on the web since I had so much down time and read that that many active young people with THA (Total Hip Arthroplasty) had discovered Pilates as a form of getting their strength and mobility back so I decided to give it a try.
My first class with Beth was so motivating and positive! I sprinted out of the studio. Overtime I regained the use of muscles that I forgot I had. Pilates forced me to use my core and not rely on my bilateral implants to hold me up.
I have always admired Beth and her dedication and knowledge. Working with her has made me feel like a whole person again. I am able to do 2-3 mat classes and a weekly personal session. I play golf four times a week along with biking and hiking back to loving life.
If you are experiencing hip pain, don't put it off. Diligent work with a knowledgeable trainer can and will bring you back to life. I love the way I feel after class and I make an effort to apply what I have learned to everyday life.
I am so excited about this book and hope all people seeking relief from hip pain will research this to help relieve the fear of surgery and moving again.

~ Marie Gibbons
---
"I had total knee replacements in both knees (2008; 2010). Reformer and mat classes made it possible for me to return to my active lifestyle much sooner than originally predicted.
~ Robyn Wimmer
---
Testamentary on Core and Leg Muscle Preparation Prior to Full Hip Replacement
Hi, my name is Chuck and I have a success story for any of you contemplating hip or knee surgery.
A while back when repetitive pain in my left hip was associated with walking a short distance, I realized that I was in for a health challenge.
I sought out a good surgeon and was immediately diagnosed with osteoarthritis of my left hip and it was recommended to me that I check-in and get a brand new hip.
I was rather afraid of a full hip replacement so I decided to try to put it off for as long as humanly possible. I took supplements, vitamins, pain relievers in the hope of a miracle improvement. Obviously, this arthritic hip condition does not just "go away". It's up to you to know how to handle it. Ignoring this condition means a life of difficulty in moving and living.
First, here is the ending of my story !
I went through a full left hip replacement and was released from the hospital in a record 48 hours time. I had 2 days of post operative hospital therapy and then released. Within 4-5 days I was substantially weaned off the pain meds and went on with my life with a new painless ability to walk and function. It all seemed so easy.
Here's why it was so smooth…..
I was a gym rat for many years and my wife is an expert in Pilates Techniques.
I never had the discipline for a full Pilates regimen but I did realize that the Pilates Core philosophy was exactly what I needed for both, before and after, my hip replacement.
I spent about six to eight weeks working the Pilates mat program to strengthen my core, hips, and upper leg muscles. I did not need serious physical therapy post operatively to get back on my feet. The muscles were there and prepared to get me through the hip operation with great benefit.
After the surgery I continued to work the hips and core with the Pilates style mat work and after 60-90 days…..I felt great.
~ Chuck Kaplanek